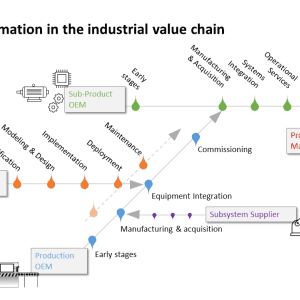 Agileo Automation in the complex industrial value chain.
Agileo Automation offers software automation solutions including equipment control and connectivity to Production OEMs that manufacture highly complex equipment.

Typically, these highly engineered machines include multiple complex sub-systems from Subsystem Suppliers such as robots, vacuum pumps, CNC controllers, power generators, lasers, etc. Our A²ECF framework enables easy integration of these subsystems with certain COTS drivers from leading suppliers.
Production OEMs sell their equipment to factories (aka "fabs" in the semiconductor industry) that act as Sub-Product OEMs in the value-chain. It means that their products (chips, motors, etc) are embedded into another product from a Product Manufacturer such as a car, an airplane or a cell phone. Depending on the complexity of the final products, we might see multiple cascading levels of product integration before it reaches the end consumer.
Sub-Product OEMs manufacture high volumes, with extremely high quality requirements, often pushing themselves to adapt the production machines to the products they intend to produce. Therefore, they are highly connected and automated.
Agileo Automation helps production OEMs to build "integration ready" equipment and to integrate it into those factories using communication standards such as SECS/GEM, OPC-UA or dedicated interfaces.
Authors: Marc ENGEL & Fahad GOLRA