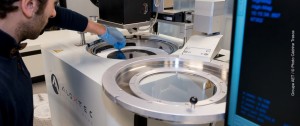 03/20/2023
The A²ECF framework integrated at Aloxtec
Aloxtec is a subsidiary of French specialist industrial furnace manufacturer AET Technologies. It designs semiconductor oxidation furnaces for the manufacturing of VCSELs (vertical-cavity surface-emitting lasers), which are built into LIDAR systems for use in 3D sensing. Aloxtec holds a market share of 60-70% in its sector.
To meet growing demand and capitalize on its technological edge, Aloxtec called on the software expertise and resources of Agileo Automation through the A²ECF Semi framework. Its objective was threefold: improve supervision and control over the oxidation process, automate furnace loading, and simplify integration into an industrial production line.
In this testimonial Pierre Bonnard, Aloxtec co-founder and industrial IT manager, shares his experience on this joint project.