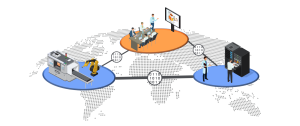 03/04/2021
"Resilience in the industry of the future" award.
On March 3rd and 4th 2021 we participated to the ViV Industry 2021 challenge. During this challenge we received the "Resilience in the industry of the future" award for our A²ECF framework, a tool operating system to create equipment controller software for complex and connected production machines. A²ECF enables a digital twin of the real machine which has many advantages when it is hard to travel:
Exchange within parties, show progress and get feedback during the sales and the development phase
Prepare commissioning and train users (operators, service engineer,...)
Integrate the machine with the Fab IT before the machine is really installed without traveling on site
Test the equipment control software before hardware with long lead time becomes available without traveling on site
Reproduce problems using history of events to correct them from home/office
Validate modifications to be confident in sending a software update far away.
This award recognizes our work during the year 2020 and in particular our methodology using digital twin which has allowed us to start up machines worldwide for our customers despite the health crisis.